I decided to take up hubby's challenge to bake a birthday cake for Joanne's 1st birthday. 2 things to note: I have never baked a sponge cake successfully and I have never decorated a cake before.

I researched on the internet and picked up tips on decorating. I finally came across this food blog: Happy Home Baking. This mommy has so many recipes and ideas. I was totally inspired!

Creamy Peachy Sponge
4 eggs
150g caster sugar
140g cake flour
30g olive oil
30g fresh milk
1/2 tsp vanilla essence

Canned peach slices
Whipping cream

Cake
1. Line a deep 8" cake pan with greaseproof paper. Preheat oven at 180oC. Sift flour and set aside.
2. Whisk eggs, sugar and vanilla essence in a big mixing bowl, at high speed for 5-7min, till light and fluffy, pale colour (ribbon state), do not overbeat. Then continue to whisk at low speed for 1-2min to stabilise the air bubbles in the batter.
3. Gently fold in sifted flour in batches. The batter will be slighty lumpy.
4. Spoon some batter in a small bowl and gently stir in milk and oil. This will help to blend in the denser liquids into the sponge batter. Fold in this mix into the batter. The batter should be smooth now.
5. Pour the batter into the pan. Give the pan a few bangs to release any big bubbles in the batter. Bake for 30min or till a skewer inserted in the centre comes out clean. *while baking, place a dry mixing bowl into the fridge.*
6. Remove the cake and let it cool upside down.

Frosting the cake
7. While the cake cools, prepare to frost the cake. Drain and cut up the peach slices, set aside. Whisk 1 cup of whipping cream into the cold mixing bowl till it peaks.
8. After the cake has cooled completely, using a long serrated knife, slice the cake into 2.
9. For the bottom layer, place the bottom side up for a smooth surface.
10. Place 2 spoons of whipped cream on the bottom layer. Spread it. Arrange the peaches. Spread more cream to cover the peach.
11. Place the top cake layer. Spread whipped cream over the top, then followed by the sides.
12. Decorate. :)

Here's mommy's effort.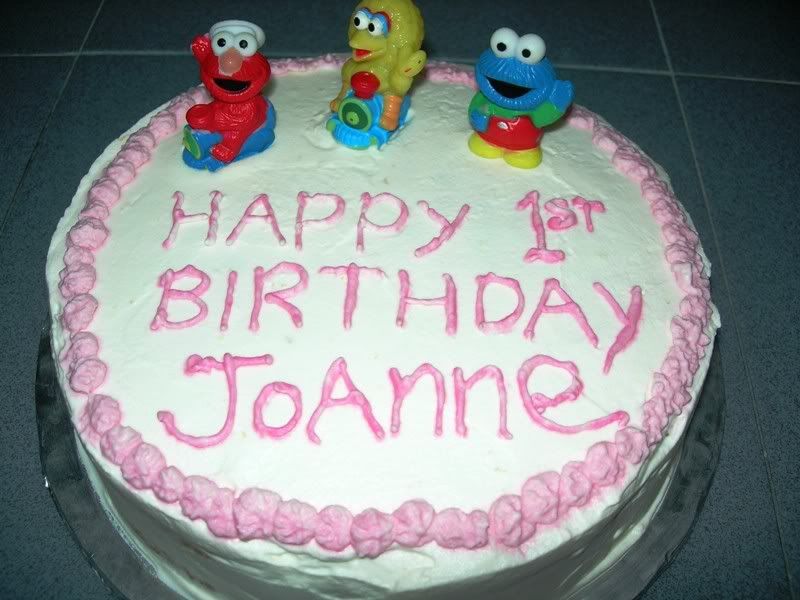 Hubby loved the cake and had 2 slices for breakfast after we sang Happy Birthday to Joanne Wednesday morning. My mom gave me the best compliment: 像蛋糕店的一样. My mom even teased me about my cake because I really couldn't bake previously and always fail in home econs.

Now hubby encourages me to bake, because he could see that I really love to do it. It was such a joy to see the kids' delighted faces when they saw the cake. :)

original recipe from Happy Home Baking > Strawberry Sponge Cake