i have this Philips HR 2833 food processor for a long long time. it can do a lot of things - chopping, shredding, slicing, whisking, dough kneading etc. i had put it aside for more than 2 years now. i decided to re-explore the usefulness of a food processor, so now it's out of cold storage. i used it to make my loaf tonight.

now that i got my digital kitchen scale, i hate using cup measurements to measure out my ingredients, it took me 30min to measure the ingredients and prepare everything, when usually it would have only taken 15min. aiyo. terrible.

also my oven is small and the heat distribution is uneven, the temperature in the original recipe and the time to bake, i cannot follow at all. in the end, the loaf was blackened on the top. *sigh* but it was yummy, which is more important.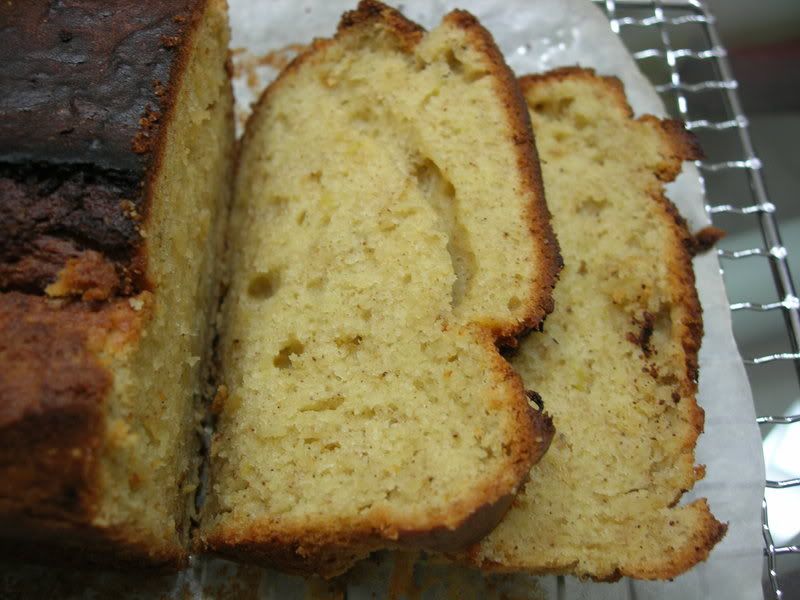 Banana Spice Loaf
170g self raising flour
1 tsp ground allspice
a dash of ground cinnamon
140g brown sugar
125g unsalted butter, cold, cubed
2 eggs, lightly beaten
60g plain yogurt
2 medium sized ripe bananas, mashed

1. grease and line a 8"x4" loaf pan; grease paper.
2. sift flour, allspice, cinnamon into the bowl of the food processor. Mix sugar into the flour mixture. Add butter cubes. process till the mixutre is fine and crumbly like fine breadcrumbs.
3. add eggs, yogurt and banana and process till just combined. do not overbeat.
4. spoon mixture into the loaf pan; smoothen the surface. bake in preheated 160oC oven for 40min or till cake tester comes out clean when inserted in centre of loaf.
5. leave loaf in pan for 5min before turning over onto wire rack to cool completely for storing.

original recipe from Periplus Mini Cookbooks series - fabulous fast cakes