I'm getting good at making bread. Since I got the hang of kneading dough, feeling it and knowing when it is kneaded just right, elastic and smooth, I have fallen in love with making bread! Happy Homebaker mentioned somewhere in her blog that she got a can of red bean paste from Daiso, so I kept a lookout for it when we were there last Saturday. I bought a can and couldn't wait to try it. Tonight I made some sweet buns.

Using the same sweet bun recipe, after the 1st proofing, I divided the dough into 16 equal portions by weight. The crucial part to shaping the dough is to rest the divided portions for 10min. This is something I learned from Alex Goh's book on bread making. True enough, I was able to shape the dough more properly and not worry abt the 1st few doughs which I shaped would rise faster than the later batch, if you get what I mean.

To wrap the red-bean paste, flatten the dough using a lightly-floured rolling pin (I skipped this and used my palm, resulting in the fillings not in the centre), put the filling, gather the sides and pinching to seal. Round the dough.

For the cheese fillings, similarly, flatten the dough and spread grated cheddar cheese and roll up like a swiss roll and tugging the ends under, pinching the opened sides and round the dough.

Here's the final product!


> Fresh and hot from the oven, hubby couldn't wait and took one even before I could take a photo!



> Cheese bun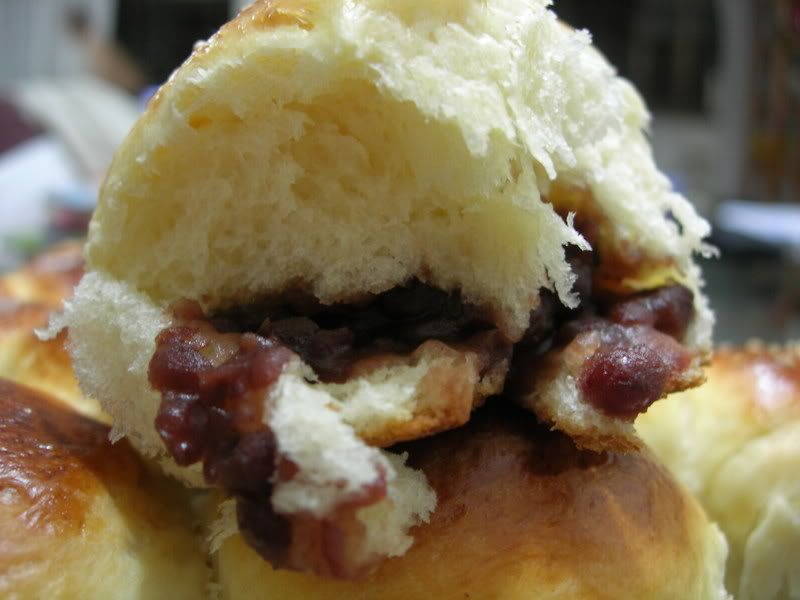 >> Tau Sar bun, see what I mean when I used my palms to flatten the dough. The tau sar is not in the centre... the bread was soft and fluffy.. yummmm....