i bought an extra bunch of bananas on Saturday, just so that i can make banana muffins and steamed banana cakes. the batch of banana muffins i made last night got rave feedback from everybody. i had 4 bananas left, so i decided to make steamed banana cakes and banana muffins.

i must say the steamed banana cakes are ok, not sweet enough. i reduced the sugar qty to 90g. does 10g make such a big difference? i haven't tried tonight's banana muffins. hope it turns out as well as last night.

with all these bakings and tasting, it's no surprise that i'm putting on lots of weight. this is bad; Jo is 13mths now and i really need to work hard to lose the spare tyre.... all these baking adventures are not helping.. HELP!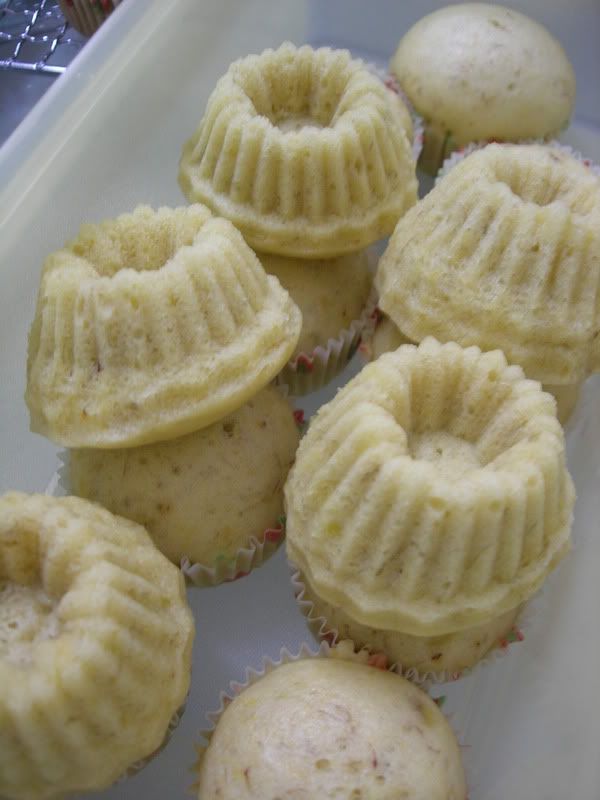 >> Steamed Banana Cake >> JoJo's Banana Muffins

Steamed Banana Cake
150g self raising flour
1/4g baking soda (1g)
2 Eggs
100g sugar
2 ripe bananas, mashed
75g oil (any flavorless oil)

1. Sift the flour and baking soda in a bowl and set aside. Line muffin tins with paper cups.
2. Whisk the eggs and sugar till light and fluffy. Add the mashed bananas and mix well.
3. Gently fold in flour mixture in 3 batches, alternating with oil.
4. Spoon batter into muffin tins, 2/3 full. Steam for 10min or till a cake tester comes up clean when poked into the muffins.
5. Remove from tin and allow muffins to cool on rack before serving.

original recipe - Amanda: Held by Love, Baked from scratch > Steam Banana Cake